Hello everyone!
I hope that you all had a lovely holiday time!
Today's card is showcasing just one of the (fabulous) brand new designs from All Dressed Up Stamps.
This one is called Happy Valentines and it comes like this:-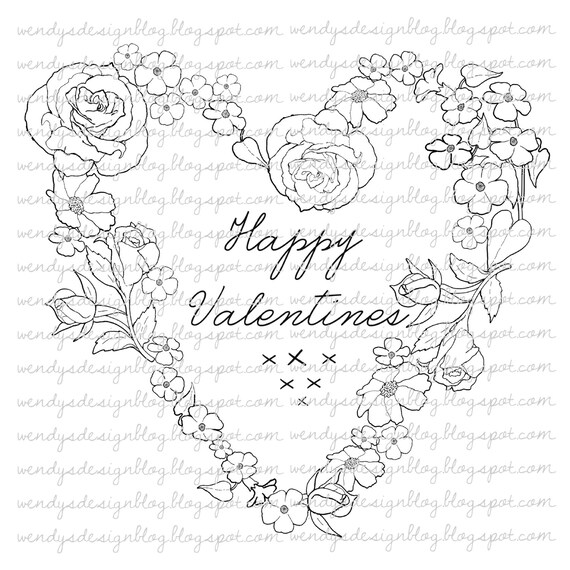 e
I digitally removed the words and added my ribbon bow instead.
Although it is meant to be a Valentine's image, I actually wanted to create a card that was good for multiple uses, so I came up with this one.
CAS in style, and it can be used for a Thank You, a Birthday, a Mother's Day, A Bereavement.  Any number of things.
A very versatile image indeed.
To bring this beautiful heart of flowers to life, I used my Copics in these shades:-
Not very many colours but I do love how it turned out!!
I printed the image onto Neenah Cardstock, put it through my sewing machine with the thread removed, roughed up the edges with my distress tool, and stuck this to my Pastels Core-Dinations collection.
Then I distressed the edges of my Blue Pastel card too.
I stuck all of it to my shaped card base, and finished off with my tiny blue pearls.
The bow I tied by hand, using some of my organza polka dot ribbon I had left in my ribbon cupboard.
To see all of the creations by my fabby DTeamies, and of course all of the wonderful new images from All Dressed Up Stamps – just check out the blog by clicking here.
All of the images are fantastic and the girls have created true masterpieces! Smiles.
Hugs n Happy Crafting Everyone!
Karen.xx
The challenges I would really like to enter into with my multi use card are:-
Clear It Out Challenges – Anything Goes.  (Stash Item is my Polka Dot Ribbon.)
Craft-Dee Bowz – Anything Goes With A Hand Tied Bow!
Crafting From The Heart – Anything Goes.
Crafty Boots – Out With The Old In With The New.  (My new item is the image and the lovely Pastel Blue Core-Dinations Cardstock, that Father Christmas brought me!  My old is the ribbon and pearls.)
Sweet Stamps – Something New!  (My new item is the image and the lovely Pastel Blue Core-Dinations Cardstock, that Father Christmas brought me!)